General Roofing & Roof Repairs
With expertise in Cotswold stone roof tiling Berry's Roofing are a professional local roofing company based near Swindon, Wiltshire, together with Cotswold stone roofing we also carry out a full range of slate tiling work, concrete tiling and natural stone roof tiling.
We undertake both large or small domestic and listed building roof work throughout both Wiltshire and Gloucestershire, from fixing leaking roofs and installing Velux® sun tunnels and Velux® windows to re-roofing or patching residential and listed buildings, churches, roofing new builds, roof tile maintenance and general roof repairs.
Roof tiling and re-roofing
Complete roof replacements
Roof repairs and roof maintenance
Emergency and temporary roof repairs
Storm damage roof repairs and roof leaks
Insurance work undertaken
Velux® windows and Velux® sun tunnels
Lead work, flashings, guttering and valleys
Chimney stack repairs, repointing, maintenance and renovation
Flat roof porch conversions
New tiled roofs, new build roofing
General roofing
Conservation roofing work
Church roof repairs and maintenance
Church porch re-roofing
Listed building roofers, roof maintenance and repairs
English Heritage and National Trust roofing
Cast iron conservation roof lights fitted
Replacing thatched roofs with natural stone, slate or concrete tiles
Call Berry's Roofing on Swindon 07930 893 195 for a no obligation free estimate.
All our work is guaranteed and we are fully insured.
Re-roofing using Marshfield tiles and natural slate tiles
Originally thatched, this roof in Cirencester was replaced using Marshfield tiles and Natural slate tiles.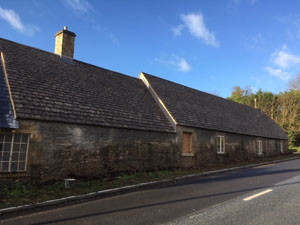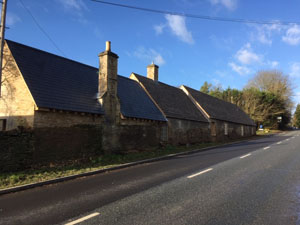 Replacing a thatch roof with a new concrete tiled roof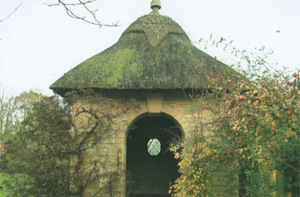 The existing old thatched roof.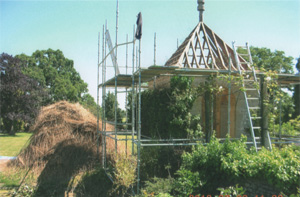 We removed all of the thatch.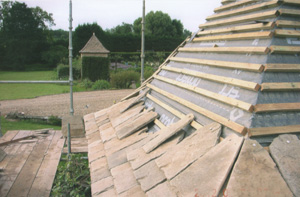 We then added new wooden battens and concrete tiles.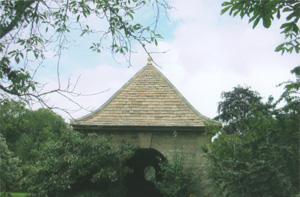 The completed replacement tiled roof.
Clay tile roof replacement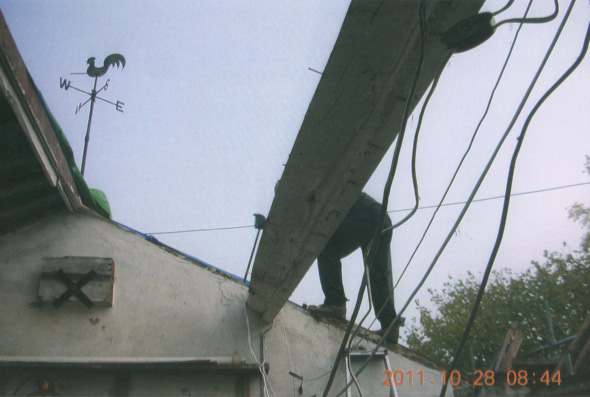 We removed the original roof.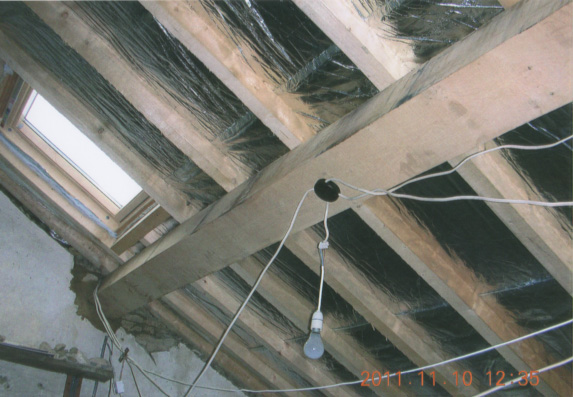 We added a new oak purlin and rafters.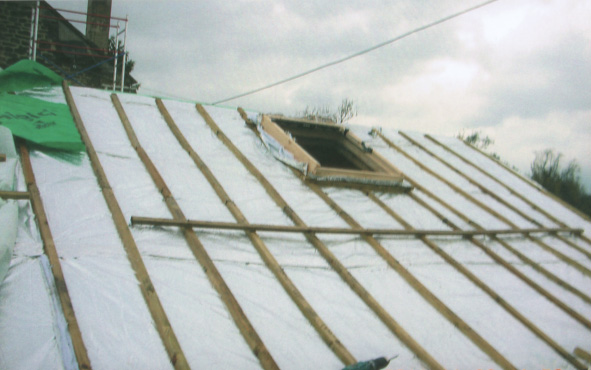 We installed new insulation.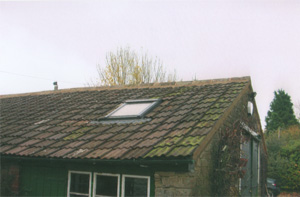 The completed roof with clay tiles and roof light.
Oak framed garage with new concrete tiled roof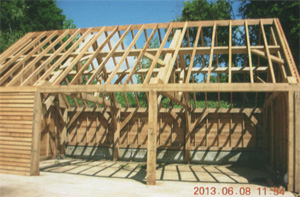 A brand new oak framed garage.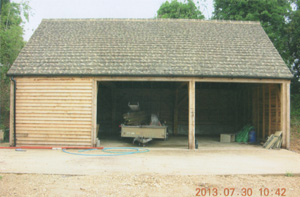 The finished garage with a concrete tiled roof.
Installation of Velux® roof windows into an existing concrete tiled roof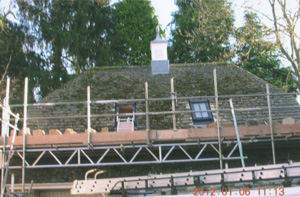 Two new Velux® roof lights were installed into an existing old concrete tiled roof.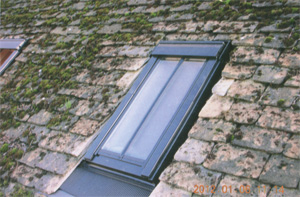 The finished installation, Velux® windows flush with the existing concrete tiles.
Patch repair to Church roof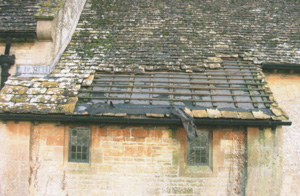 This church roof needed a patch repair and replacement tiles.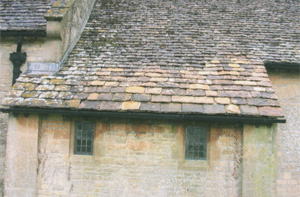 The finished patch repair to the church roof.
New Church porch roof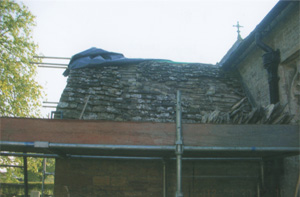 Entrance to Leigh Church - the old porch roof.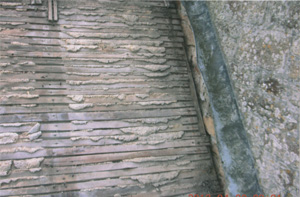 The church porch roof stripped back to the old lath plaster.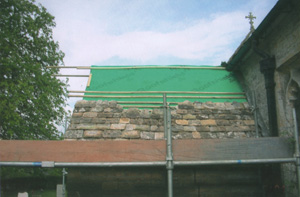 New wooden battens with a cost effective Roofsheild, breathable, water resistant membrane.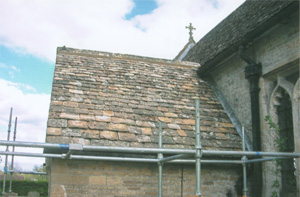 The finished tiled Cotswold stone porch roof at Leigh Church in Wiltshire.
Natural slate tile roofing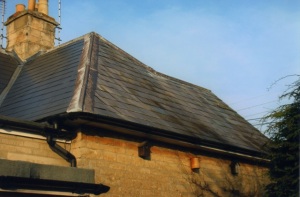 This side of the roof was leaking because the wooden battens supporting the natural slate tiles were rotten, the tiles were damaged and needed to be replaced.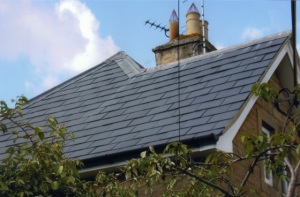 This part of the roof was stripped, a new, breathable membrane fitted with new, treated wooden battens, the roof was then re tiled using new natural slate tiles.
Leaking Cotswold stone tile roof repaired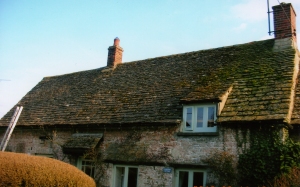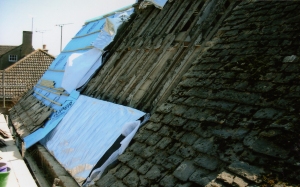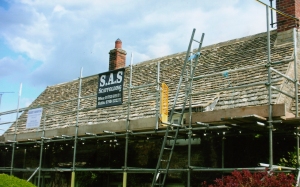 This Cotswold stone tiled roof leaked and some of the timber work was rotten and needed replacing.
The main roof timbers, however, were still in good condition although the oak pegs and oak laths which hold the tiles to the battens, were also rotten and so were replaced.
We arranged the scaffolding for this roofing job through S.A.S Scaffolding Ltd who are based in Swindon.
Flat roof porch conversions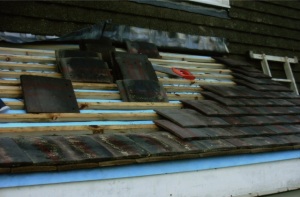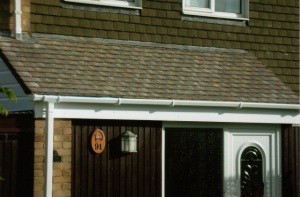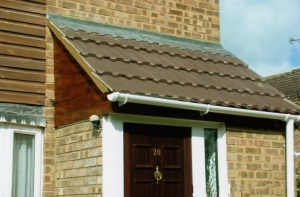 Flat roofs often leak and rather than try to fix leaks to these types of roofs it's a good investment for your property and often more cost effective in the longer term, to replace a flat porch roof with a new, pitched tiled roof.
The houses in the photographs, both above and to the left, previously had porches with flat roofs.
We completely removed the old flat roofs and replaced them with new tiled sloping roofs to match the existing tiles on the roof of each house. We fitted insulation, breathable waterproof membranes, treated wooden battens, tiles, fascia boards and new guttering.
Barn roof repairs and renovations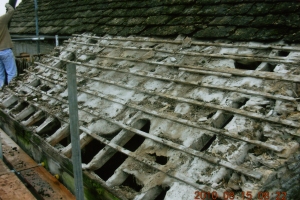 This barn roof needed a complete renovation and all timber work was replaced.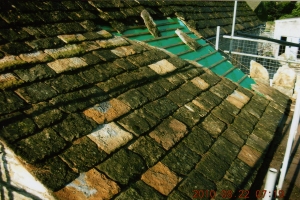 We installed new insulation and used reclaimed stone tiles to re roof this barn.
Concrete roof tiling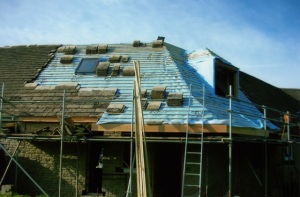 Concrete roof tiles are a versatile tile, extremely durable and are an economical alternative to traditional stone tiles.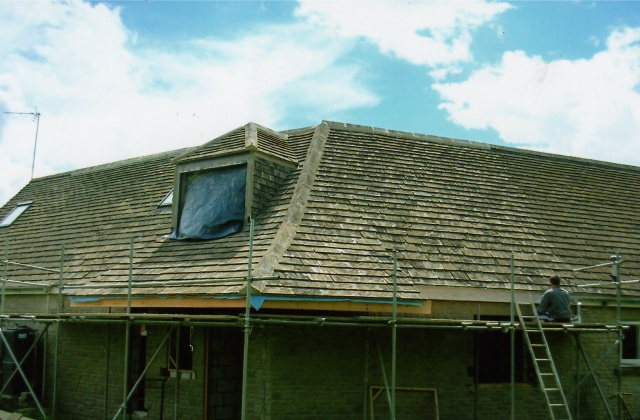 Available in many different colours, styles and finishes, concrete tiles can visually blend in with surrounding properties.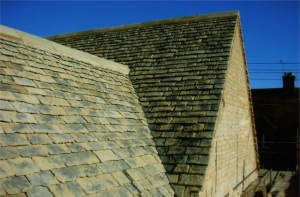 With different tile finishes available, concrete tiled roofs can look like stone and often give the much sought after appearance of a natural stone tiled roof.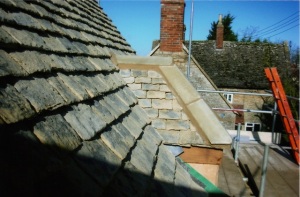 Choosing the correct colour of concrete tile, based on the tiles used on roofs of neighbouring buildings, concrete roofs can successfully fit into an area with other traditional types of roofs.
Cotswold stone tile roof repairs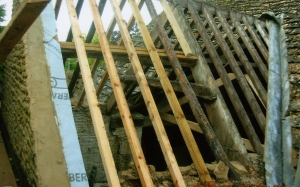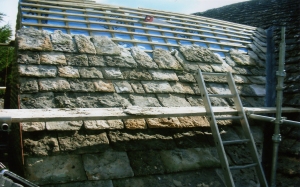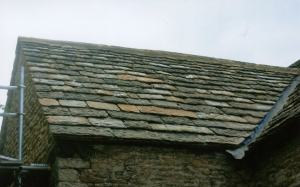 A section of the Cotswold stone tile roof on the barn conversion was repaired using matching reclaimed Cotswold stone tiles.
We also make stone tiles ourselves so always have our own stock, both new and old, which enables us to immediately source the tiles we need for each roofing job if required.
The timber work on this roof was rotten and needed to be replaced with new, treated wooden battens, a breathable membrane and we also installed new roof insulation.
Winchcombe roof tiles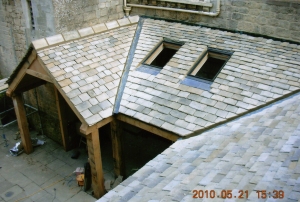 We used Winchcombe roof tiles on this new oak framed extension to a stone manor house near Cirencester.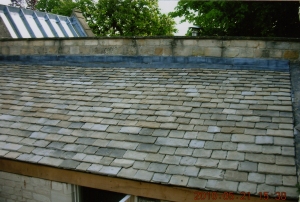 We also fitted new lead flashing and conservation windows in keeping with the style of the old manor house.