Cotswold Stone Roof Tiling
Berry's Roofing have specialised in Cotswold stone tiling, domestic and listed building general roofing and roof repairs since 1945. We make all the Cotswold stone tiles we use ourselves and can therefore colour match and supply the correct number of stone tiles needed for each job from small tile replacements and repairs to complete new roofs or roof refurbishments this significantly reducing any tile wastage.
For all your Cotswold stone roof tile requirements, please call Berry's Roofing on 07930 893 195 or email info@berrysroofing.co.uk and we will be happy to provide a free estimate or advice regarding your Cotswold stone tile roof repair or replacement.
New Cotswold stone roof and replacement porch roof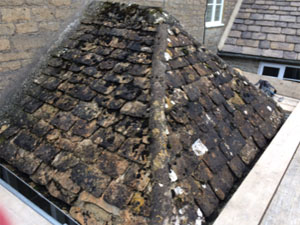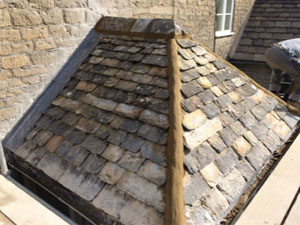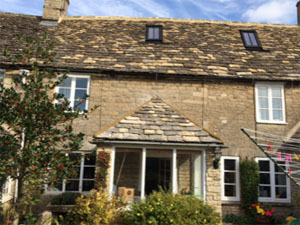 Before and after roofing pictures of a Cotswold stone porch roof replacement and a new Cotswold stone main roof we replaced in Ashton Keynes, Gloucestershire.
Swept valley roofing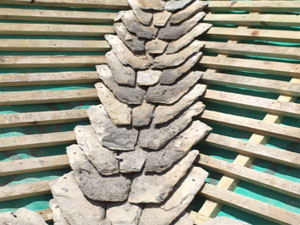 For this swept valley we used treated battens and roof shield underlay.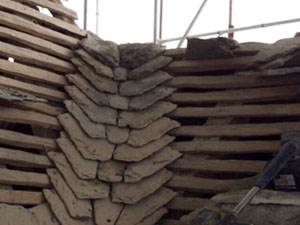 We built this swept valley in the traditional way, no underlay oak lafs and the tiles hung with tile pegs - Cheltenham, Temple Guiting.
New oak framed porch roof - Ashton Keynes, Glos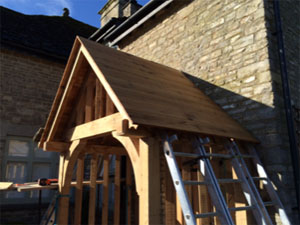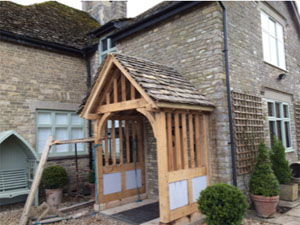 New timber rafters and stone tiled roof using the existing tiles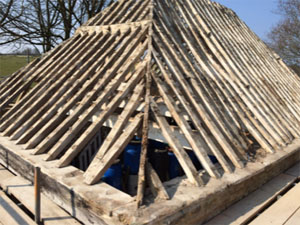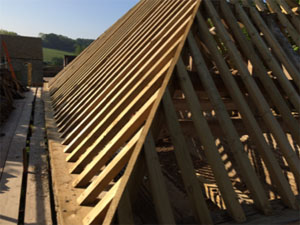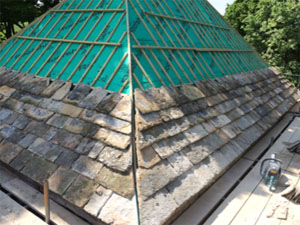 At a property in Tellisford, Bradford upon Avon we carefully stripped the exisitng tiled roof off so we could reuse the stone tiles. We then removed the old roof rafters and completely re rafted and re layed the stone tiles.
Cotswold stone roof with swept valley and Velux® roof light installation
This Cotswold stone roof with a Velux® roof light and swept valley was added to a new extension to match the stone roof on the existing building.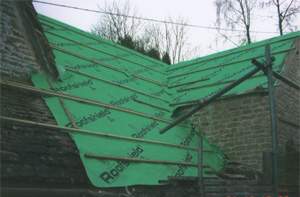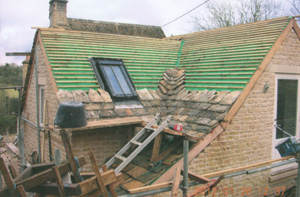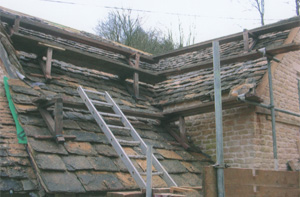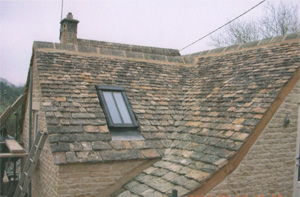 New build extension roofing
Cotswold stone tiles were used to complete the roof on this new build extension project.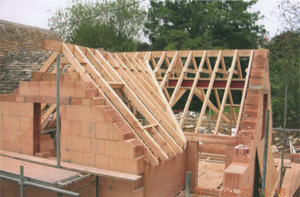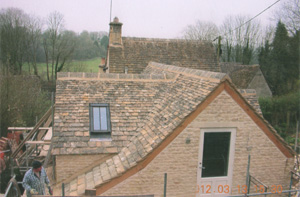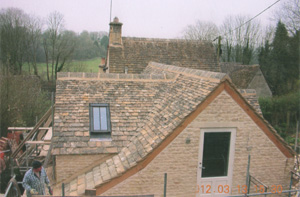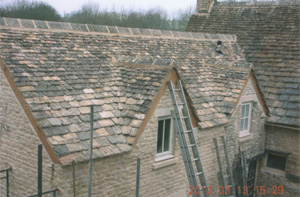 Summer House - new Winchcombe tiled roof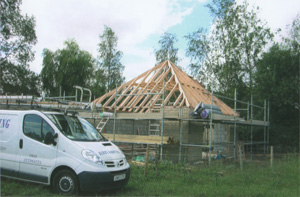 New build summer house.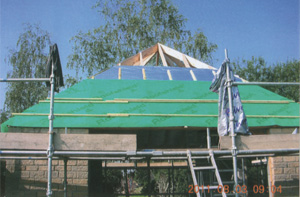 TLX silver insulation, counter batton, Roofshield membrane.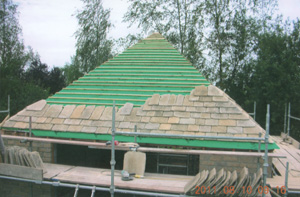 Winchcombe tiles were used on the Summer House roof.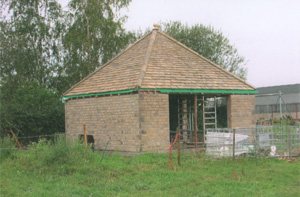 The completed new tiled roof.
Barn conversion - complete Cotswold stone tile roof replacement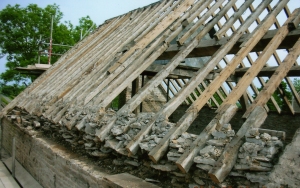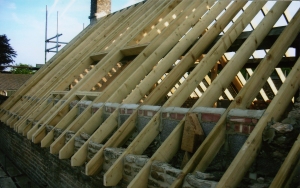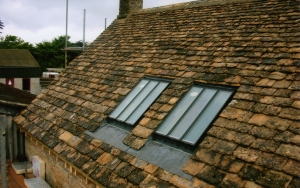 This roofing project was a complete cotswold stone tile roof replacement which included all new timber work and insulation.
We also supplied and installed sets of cast iron conservation roof lights in keeping with the surroundings and strict planning regulations.
The building was a barn conversion, the old barn was converted into a cottages ready for holiday rental at a working farm near Cirencester, Glos.
Cotswold stone tile roof replacement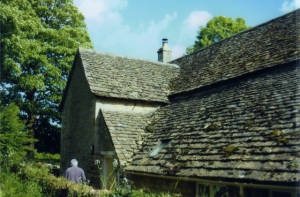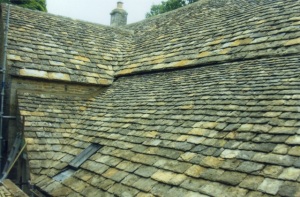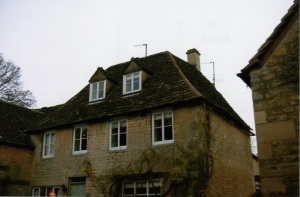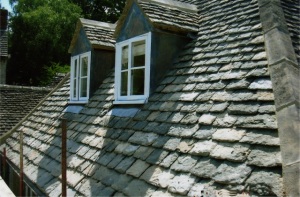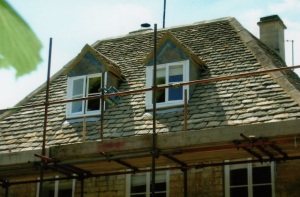 When renovating a Cotswold stone tile roof, depending on the roof's condition, we can often clean and reuse a large majority of the existing stone tiles. Examples of roofs where we have done this are shown in the pictures above.
We often use our own scaffolding which keeps costs down but can also arrange additional scaffolding and skips for more complex jobs where needed.
As we make all the stone tiles we use ourselves, we have our own large supply of tiles, both new and old which enables us to immediately source the tiles we need for each roofing job. This also lets us easily colour match and blend roof tile colours with the existing roof or surrounding buildings and avoid an obvious patching effect when repairing parts of a roof.
Cotswold stone tile roof replacement, new battens and insulation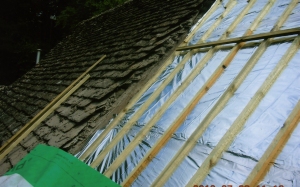 Battens, roof insulation and minimal rafter repairs.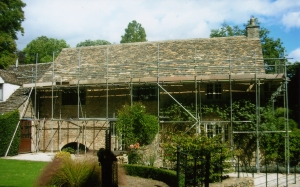 A complete Cotswold stone tile roof replacement.
Cotswold stone tile roof repairs and roof renovations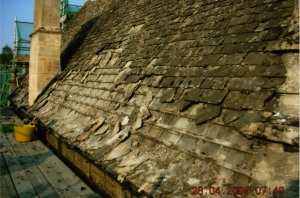 This roof had a large patch of weather worn and damaged Cotswold stone tiles and rotten wooden battens which needed to be replaced.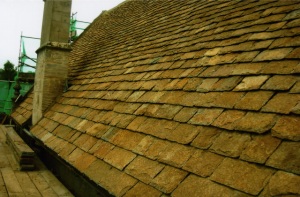 After roof repairs - the worn stone tiles were removed, new, treated wooden battens fitted and new Cotswold stone tiles were laid.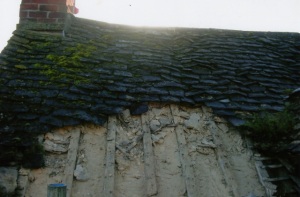 Roof repairs were urgently needed on this old cottage roof. Both Cotswold stone tiles and wooden battens needed to be replaced and a new, breathable membrane fitted.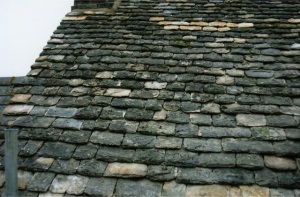 After extensive repairs using both old and new Cotswold stone tiles, this roof repair is still in keeping with the age of the cottage and the style of the surrounding buildings.
Mixed old and new Cotswold stone tile roofing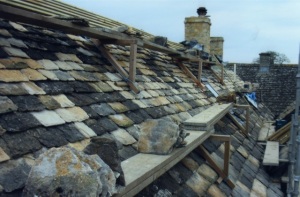 When replacing or repairing a Cotswold stone tile roof, in some instances many of the existing tiles are often still in good condition and can be reused.
Reusing old stone tiles saves money by reducing the number of new tiles needed for the roof repair or replacement. We will then mix both the old and new tiles carefully together and doing so we are able colour match the individual tiles so large patching effects on roofs, which sometimes show when only new tiles have been fitted, are less evident.
Mixing old and new Cotswold stone tiles is particularly useful if parts of a roof are being replaced or repaired.
Cotswold stone tile swept valley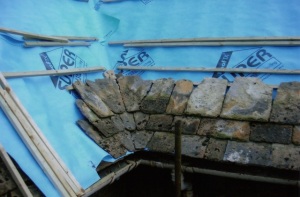 The photographs to the left show the beginning of tiling a swept valley, tapered stone tiles which join two roof slopes together.
Specially cut Cotswold stone tiles are used to create swept valleys alternating with two tiles across and then three tiles across to establish a gentle curve - the valley.
Swept valleys are a skilled, traditional stone tile roofing technique not only used on listed buildings and conservation projects but also on both old and new properties with stone tiled roofs.
Cotswold stone tiled church porch roof replacement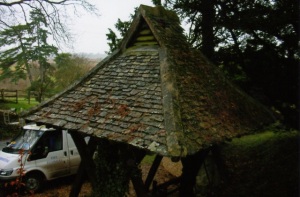 The church porch roof before a Cotswold stone tile roof replacement.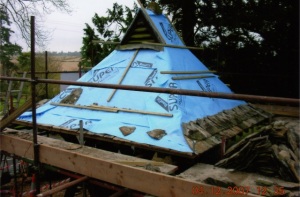 The old tiles were stripped from the porch roof then a breathable membrane and treated wooden battens were fitted.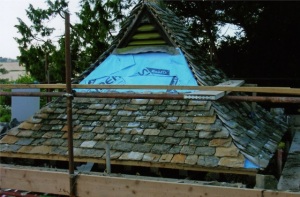 Cotswold stone tiles were fitted to the church porch roof and we reused the original stone tiles where possible.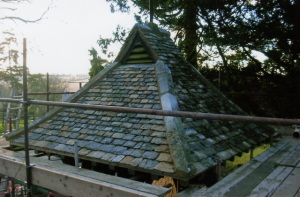 The completed Cotswold stone tiled church porch roof with mixed old and new stone tiles.
Leigh Church Cotswold stone tile roof replacement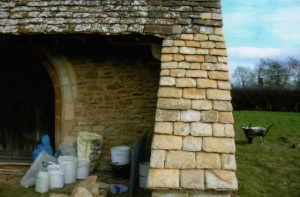 We carried out repairs to the main Cotswold stone tile church roof and replaced old tiles either side of the entrance doorway.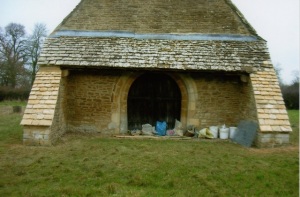 We made all the new stone tiles we needed for this job and the picture above shows the finished stone tiled church roof.
New tiled barn roof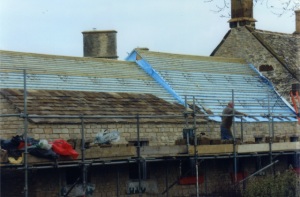 Trusses, Thinsulex insulation, treated wooden battens and breathable membrane in place ready for roof tiling.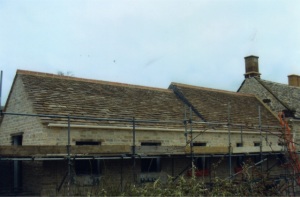 The picture above shows the finished tiled barn roof with aluminium guttering fitted.
New stables with an imitation stone tile roof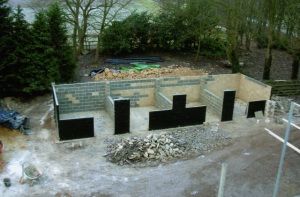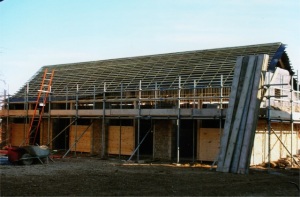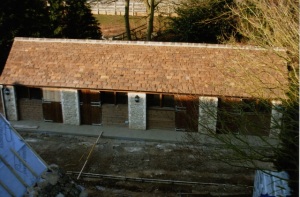 We fitted this imitation Cotswold stone tile roof to a new build stable block near Tetbury in Gloucestershire.
When the building was up to wall plate height we fitted all the wooden roof trusses, roofing felt, a breathable membrane and treated wooden battens.
We then tiled the roof using look alike stone tiles rather than actual Cotswold stone tiles which keeps costs down but still gives the sought after Cotswold stone tile look in keeping with the main house on the estate and the surrounding barns and buildings.
Cotswold stone tile re-roofing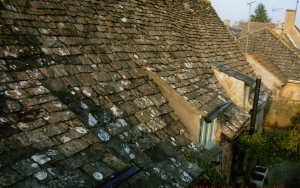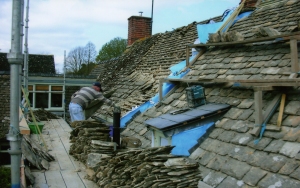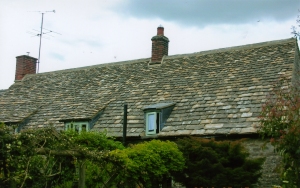 For this re-roofing job we re-used the majority of the Cotswold stone roof tiles we removed from the roof.
As we make all our own stone tiles we were able to easily colour match the extra tiles we needed to the existing tile colours so there were no signs of patching at all on the finished roof.
We also replaced the old rotten battens with new treated ones, insulated the roof and installed a new breathable membrane.